Get complete content, training, scripts, & assets to the Curaytor Marketing Plan all in one place!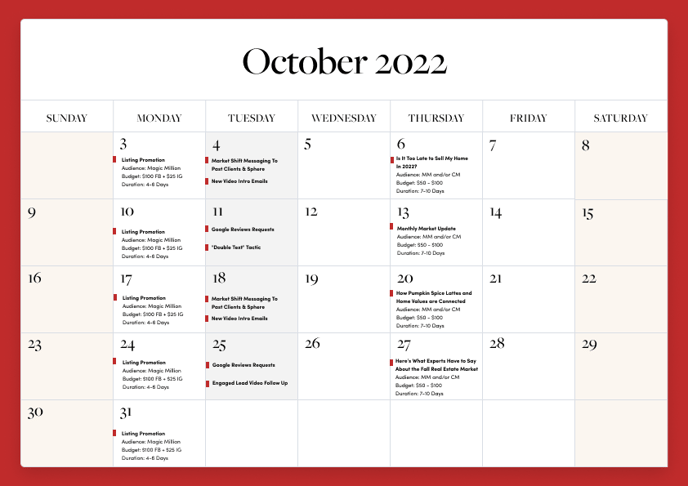 🔺 Click on the Image to Download the October Content Calendar 🔺
Showcase Your Listings Using Our Proven Tactics; click HERE for our Listing Promotion Training.
Try out our new Open House Guide Template to create more conversations and opportunities around your listings. 🏡 Click HERE for a quick tutorial showing how to edit and how to use the Open House Guide content strategy.
Engage Your Audience Using Our Curaytor Blast Marketing Campaigns; click HERE to learn how to send email blasts.
Follow Up With All Of Your Engaged Leads By Using Convert; click HERE to learn how to use Convert to follow up with your leads.
Tap into our brand 📣 NEW weekly Curaytor Follow Up Scripts & Resources! You've created opportunities through your marketing & lead generation efforts... now, it's all about consistently following up. Be in the right place. At the right time. With the right words. Curaytor's got you! 💯

Oct 3rd - Oct 9th
Is It Too Late To Sell My Home In 2022?
Get the Graphics Here

Get the Instagram Reels Canva Template Here

🎥 HOW TO: Use The New Reels Canva Templates

💬 Get the *NEW Curaytor Follow-Up Scripts & Resources Here

Oct 10th - Oct 16th
Market Update
Get the Graphics Here

Get the Instagram Reels Canva Template Here

🎥 HOW TO: Use The New Reels Canva Templates

💬 Get the *NEW Curaytor Follow-Up Scripts & Resources Here

Oct 17th - Oct 23rd
How Pumpkin Spice Lattes And Home Values Are Connected
Get the Graphics Here

Get the Instagram Reels Canva Template Here

🎥 HOW TO: Use The New Reels Canva Templates

💬 Get the Curaytor Follow-Up Scripts & Resources Here

Oct 24th - Oct 30th
Here's What Experts Have To Say About The Fall Real Estate Market
Get the Graphics Here

Get the Instagram Reels Canva Template Here

🎥 HOW TO: Use The New Reels Canva Templates