Get the content, training & assets to the marketing plan all in one place!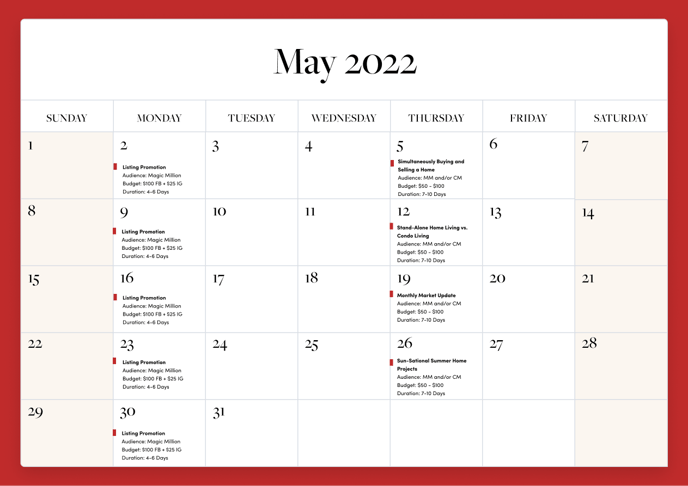 Click on the Image to Download the Content Calendar
Showcase Your Listings Using Our Proven Tactics; click HERE for our Listing Promotion Training.
Follow Up With All Of Your Engaged Leads By Using Convert; click HERE to learn how to follow up with your leads.
Engage Your Audience Using Our Marketing Campaigns; click HERE to learn how to send email blasts.
WEEK 1
May 2nd - May 8th
Tips for Simultaneously Buying and Selling a Home
WEEK 2
May 9th - May 15th
Stand-Alone Home Living vs. Condo Living: Which Is For You?
Get the Copy Here
Get the Graphics Here
**NEW**
Get the Instagram Reels Canva Template Here
🎥 HOW TO: Use The New Reels Canva Templates
WEEK 3
May 16th - May 22nd
Monthly Market Update
**NEW**
Get the Instagram Reels Canva Template Here
🎥 HOW TO: Use The New Reels Canva Templates
WEEK 4
May 23rd - May 29th
Sun-Sational Summer Home Projects
Get the Copy Here
Get the Graphics Here
**NEW**
Get the Instagram Reels Canva Template Here
🎥 HOW TO: Use The New Reels Canva Templates