This article outlines the basic information you need to get started with your Chime IDX.
Table of Contents
Account Set-Up
Go to your settings
Go to "Profile"
Make sure all of the settings are set up correctly
ACCOUNT PROFILE PRO-TOP
Make This Your Team Account
The fields that can be edited in this section will be displayed in emails sent
from the Chime CRM, including Property Alerts and Welcome Emails, so if
you're sticking with another CRM, it's best to use your team name here.
Go to "Preferences"
Make sure all of the preference settings are set up correctly
ACCOUNT PREFERENCES PRO-TIP
Working Hours & Vacation Mode

Your working hours are when you as an agent want to receive leads. If
working hours are established and a lead comes in outside of those hours,
it will not be sent to those who are marked as unavailable per the working
hours or their vacation mode is toggled on.
FOR ADDITIONAL RESOURCES ON YOUR WORKING HOURS AND VACATION MODE, VISIT CHIME'S HELP CENTER ARTICLE.
Auto Property Alerts
If you opted out of Auto Property Alerts during the setup process, this will not pertain to you. However, you can enable them at any time under the "Auto Property Alerts" section in the settings. If you need assistance with this, reach out to support@curaytor.com.
Auto property alerts not only set up property alerts for new leads based on their initial inquiry but also updates them according to their search criteria and behavior on your IDX website.
Go to your Settings
Go to "AutoProperty Alerts" under the Features section
Set your preferences accordingly


PROPERTY ALERT FREQUENCY PRO-TIP
When To Send Property Alerts

Based on feedback from many of Chime's users, we understand that most
leads will be annoyed by receiving too many emails in their inbox and
therefore may mark your emails as spam. This is harmful to your email
reputation and will influence your future email delivery. With this in mind,
we suggest that you set the frequency of auto alerts to "Weekly." If you find
out the lead is hot and actively responding to you, a manual alert can be
created for "Daily" or "Instantly" frequencies. Chime has also found the days
that auto-property alerts had the highest open rates were on Fridays and Saturdays.
How To Edit Auto Property Alert Emails
Go to "Email Templates" under the Features section
Under the "Automated Emails" tab, you'll see the Property Alert section
Edit the template accordingly to match your language

Frequency Reduction Feature
for Auto Property Alerts
In order to improve email deliverability, auto property alert email frequency will be adjusted for leads who never open them. Chime will automatically adjust the frequency of auto property alerts by doing the following.
If auto property alerts are set to "Daily" or "Instantly" frequencies, auto alerts will be sent out for 30 days daily/instantly per the setting.
If a lead who is set to receive these auto alerts does not open one alert for 30 days, the frequency will be adjusted to that lead to "Weekly".
If, after the auto property alert has been adjusted to a "Weekly",
a lead opens the auto property alert email, the frequency of their emails
will revert back to the frequency set up in Settings > Auto Property Alerts,
daily, instantly, etc.
*Note that this only applies to auto property alerts. Manual property alerts are not affected.
Manual Property Alerts
Manual Property Alerts are property alerts that are set up manually in a lead's profile based on a conversation you're had with the lead to match their preferences.
Go to the "People" section (people icon in the top banner)
Find the lead by searching for their name
Go to the lead's profile
Under the "Engagement" tab, you will see all of the property alerts they have already set up
Either edit the current property alert to match the changes you discussed, or set a new property alert if they are looking for more than one property
Welcome Email
When a lead registers on a Chime website, by default they will receive an automated Welcome Email. This Welcome Email will provide their login credentials if they want to return to the website to access their saved searches and continue browsing properties and additional content on your website. Aside from the website login credentials, you have the ability to edit the general content of this email.
HOW TO SET UP AND ACCESS YOUR WELCOME EMAIL
Go to "Email Templates" under the Features section
Under the "Automated Emails" tab, you'll see the Welcome Email section
Edit the "Buyer Lead Welcome Email" template accordingly to match your language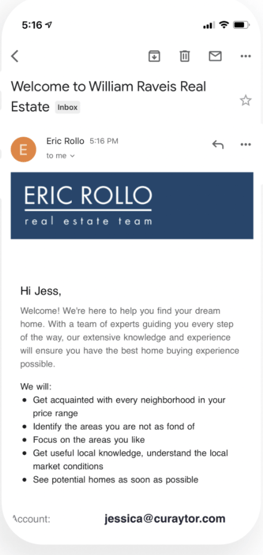 Listing Discovery Page
Chime has integrated all of your MLS database into the Listing Discovery section. Users can view all MLS listings and search for any listings from the MLS. Users can also send listings directly to leads from here.
LISTING DISCOVERY PRO-TIP
Show Your Sellers The Leads
The listing discovery page is a great way to show your sellers how much interest their
home has. For example, when you're on the listing discovery page, there is a "Buyer Matching" column that shows how many buyer's criteria matches their home.
HOW TO CREATE A MANUAL LISTING
Go to the Listing Discovery Page
Find the listing on your site
Add all of the listing details
Click "Add Pocket Listing"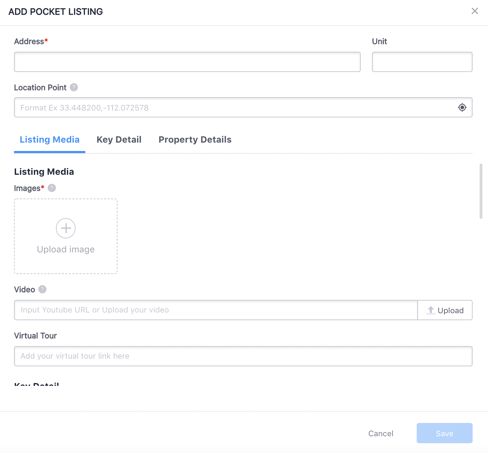 MANUAL LISTING PRO-TIP
Use This Only For Your Search Feed
Only create a manual listing in Chime if you want the listing to show up in your search feed. At Curaytor we recommend always creating a Featured Listing page on your website to tell a story about your listing rather than using the autogenerated listing page.